This is an information age and tremendous flow of information is emerging in all fields throughout the world. Educational system around the world is under increasing pressure to use the new information and communication technologies to teach students the knowledge and skills they need in the 21st century.
Teacher education institutions are facing the challenges of preparing a new generation of teachers. Mahatma Gandhi College Of Education has an answer to this critical challenge.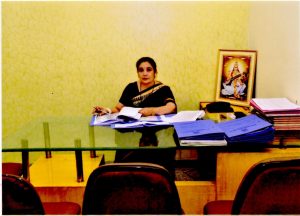 Dr. NEERU VERMA Principal
Dear Students,
With on open heart, I am delighted to have you all in our institution where you have stepped into with dreams in your minds.
You are the nation builders. Each one of you will be a tree unto yourself by imparting life (knowledge) in the seeds (students) of tomorrow, the harbingers of new era where there will be many possibilities of growth.
It is a matter of pride that in the present scenario of stressed life style and hazards of modern era, Mahatma Gandhi College Of Education is playing a very strong, positive and emphatic role.
Tradition, integrity, discipline and excellence go hand in hand and Mahatma Gandhi College Of Education bear testimony to this fact. Along with providing academic guidance here teachers also teach the students to remain steadfast on rich cultural values of the Indian society.
It is rightly said that "one who seeks, finds". The stronger your desire to excel, the more profound your life will be.
Dear students, the almighty has blessed you by putting in the fortunate position of being an important part of this institution, so that you may be able to fulfill your ambition of achieving excellence in life.
Because of sincerity factor existing in all of you, I hope that Mahatma Gandhi College Of Education will definitely scale new heights.
With best Wishes,